$200 Off
Dental Veneers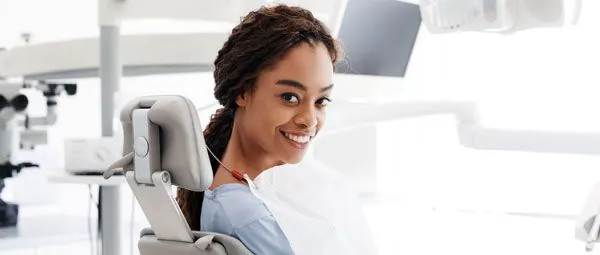 Transform your smile with custom-crafted dental veneers! Veneers fit comfortably over the teeth to correct a long list of esthetic smile concerns. Take $200 off when you choose dental veneers for your next cosmetic treatment. Exclusions may apply.
You don't have to live with stained, crooked, or misshapen teeth! Sunnyvale Family and Cosmetic Dentistry can give you the perfect Hollywood smile in as little as two appointments using long-lasting and natural-looking veneers.
We proudly offer the very best dental veneers near Sunnyvale, Los Altos, Mountain View, Los Altos Hills, Cupertino, and Santa Clara because we know that every single patient is unique! Dr. Sudeep is a skilled cosmetic dentist who will take into account your goals, facial features, lifestyle, and more to create a new-and-improved smile that's all your own!
What Are Dental Veneers?
Dental veneers, also known as teeth veneers and instant orthodontics, are cosmetic restorations made to act as front teeth covers, masking any and all imperfections. Depending on the type of veneer system, they are either fabricated from ultra-thin porcelain, ceramic, or composite.
Dr. Sudeep offers:
Porcelain Veneers. Long-lasting dental veneers made from natural-looking, iridescent porcelain.
Lumineers®. Popular veneers system made from ceramic that doesn't require any preliminary tooth preparation.
During your veneers consultation, Dr. Sudeep will partner with you to determine which system would be the best choice for your smile. From there, she will ask you about your goals and lifestyle, giving you the top choice for you!
How Veneers Transform Smiles
Your veneers will take years off your smile by completely eliminating any and all of the following conditions:
Deep Stains
Discoloration
Chips & Cracks
Gaps Between teeth
Misalignment
Short Or Misshapen Teeth
Gummy Smile
Worn Enamel
Benefits of Porcelain Veneers
Porcelain veneers come with a wide range of benefits, including:
Improved esthetics. Porcelain veneers are the most natural-looking cosmetic restoration available. They truly do look like your teeth - but better!
Durability. This type of veneer is made to last. If you practice good oral hygiene and visit Dr. Sudeep for regular visits, yours could last decades.
Instant orthodontics. Dental veneers straighten smiles in as little as two appointments.
Boosted confidence. You'll have a brand new smile everyone will love!
Benefits of Lumineers
Lumineers are an excellent alternative to porcelain veneers. They offer many of the same benefits except they do NOT require any tooth enamel to be removed in the preparation process. This means that existing teeth stay intact while being bonded with a ceramic material that's as thin as a contact lens!
How Much Do Teeth Veneers Cost?
Your total teeth veneers cost will heavily depend on the number of dental veneers required and the veneers system you choose. Since no two patients are the same, you must attend your consultation to determine your projected treatment time and investment.
Sunnyvale Family and Cosmetic Dentistry makes it easy to afford your veneers. If you are in need of financing, our friendly staff can help get you set up in a no-interest or low-interest monthly payment plan with CareCredit®.
Questions? Call us today!
Get Started On Your Journey To A Stunning Smile!
Schedule your consultation and find out whether you can transform your smile – and yourself – with dental veneers. Call us today to schedule your consultation.
Se habla Español!